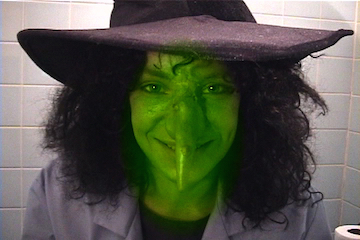 MoMA PS1, Classroom 22-25 Jackson Ave, Long Island City 11101
September 21st, 2018 6:00 PM
The Conditions of Being Art is the first book to examine the activities of groundbreaking contemporary art galleries Pat Hearn Gallery and American Fine Arts, Co. (1983-2004), and the transnational milieu of artists, dealers and critics that surrounded them. Drawing on the archives of dealers Pat Hearn and Colin de Land – both, independently, legendary players on the New York art scene of the 1980s and 90s, whose life partnership offered a third space of ideas and kinship – the publication coincides with the exhibition of the same name currently on view at CCS Bard Hessel Museum of Art. To mark its publication by CCS Bard and Dancing Foxes Press, EAI and Dancing Foxes present a screening of video and films by artists supported by Hearn and de Land. An informal talk with The Conditions of Being Art editors and curators Ann Butler, Lia Gangitano, and Jeannine Tang will follow.

Gallery at BRIC House 647 Fulton Street
Brooklyn, NY 11217

Opening Reception: March 22, 2017 | 7-9pm
March 23, 2017 - May 7, 2017
EAI is pleased to partner with BRIC on the exhibition Public Access/Open Networks, on view from March 23, 2017 through May 7, 2017. Curated by: Jenny Gerow, Assistant Curator at BRIC, in collaboration with freelance curators Reya Sehgal and Lakshmi Padmanabhan

Public Access/Open Networks showcases both historic and contemporary art works inspired by and produced for Public Access television. The exhibition features over twenty artists and collectives that have worked in the Public Access arena, as well as contemporary artists experimenting with the democratic potential of new media platforms on the Internet. As part of the exhibition, BRIC's own Public Access television channels will also air continuously in the gallery space, and a stage in the center of the gallery will act as a set for the production of new programming by BRIC's community producers.

In conjunction with the exhibition, EAI and BRIC will co-present the symposium Utopian Potentials and Media(ted) Realities on April 22, 2017 from 12-4pm.

P.S.1 Contemporary Art Center 22-25 Jackson Ave at the intersection of 46th Ave
Long Island City, NY 11101
November 1, 2009 - April 26, 2010
Thursday - Monday, noon - 6 pm
EAI presented 45 Years of Performance Video from EAI, a survey of four decades of artists' engagement with video and performance. This project is presented in conjunction with 100 Years, an exhibition on the history of performance art organized by P.S.1 Contemporary Art Center and Performa 09.

EAI Video Project Space X Initiative
548 West 22nd Street, Ground Floor
New York, NY 10011

Tuesday, June 23, 2009 - Friday, July 3, 2009
On June 23rd, EAI's project space will launch with Character Witness, a program of videos by artists who take on the role of actor in their own narratives. Featuring a cross-generational group of artists, including Kalup Linzy, Alex Bag, Michael Smith, MICA-TV, William Wegman, Harry Dodge and Stanya Kahn, and Nancy Holt and Robert Smithson, these works also share a focus that resonates in the current economic and cultural climate: The irreverent investigation of the artist in relation to the art world and the art market.

In casting themselves in their own stories, the artists pursue a range of strategies, from playing or voicing a suite of multiple characters to performing alongside an ensemble cast or assuming fictionalized versions of themselves. Blurring the lines between narrative, performance and documentary, the artists take on these roles to critique, question, and satirize the systems around the marketing of the artist and the selling of their art.

Electronic Arts Intermix (EAI) 535 West 22nd Street, 5th Floor
New York, NY 10011
Wednesday, March 11, 2009, 6:30 pm
EAI presented an evening of conversation and screening with artist Alex Bag and writer and curator David Rimanelli.

In Bag's performance-driven conceptual parodies, she questions how we define ourselves in relation to a media-fueled consumer culture. Focusing her lens on high and low culture, the mainstream and the underground, Bag creates her own unique simulations of TV. Together, Bag and Rimanelli screened and discussed video works that span the artist's entire career. Artists & Participants Video & Image Archive

Museum of Modern Art New York City
Spring 1997
Young and Restless featured 21 recent performance-based works by 17 women artists. These energetic, often ironic pieces, made between 1993 and 1997, showcased artists who engage in dynamic explorations of female identity. Organized into 4 programs, each between 45 minutes and one hour in length, the exhibition was curated by Stephen Vitiello, co-organized by Barbara London and Sally Berger, The Museum of Modern Art, New York, and distributed by EAI.