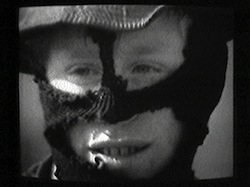 The Irish Tapes (1975), John Reilly and Stefan Moore
The Irish Tapes

Sunday, December 14, 2014
4:00 PM

Migrating Forms at BAM
(Brooklyn Academy of Music)
Peter Jay Sharp Building
BAM Rose Cinemas
30 Lafayette Avenue
New York, NY 11217

General Admission $ 14.00 Students & Seniors $ 10.00
Electronic Arts Intermix (EAI) is pleased to partner with the Migrating Forms Festival to present The Irish Tapes, created by John Reilly and Stefan Moore in association with Global Village. This rarely screened work is an hour-long edit culled from over 100 hours of footage from Northern Ireland, profiling one of the most volatile moments in the decades-long conflict. From 1971 to 1973, Reilly and filmmaker Stefan Moore collected videotaped documentation that offered an immediacy, intimacy, and subjectivity that was then rare in broadcast television journalism.

Reflecting on the experience in the Filmmakers Newsletter (December, 1975), Reilly and Moore conveyed the extreme production conditions: "Several of us at Global Village started to work with the National Association of Irish Freedom, we had no idea that before we were finished we'd travel thousands of miles on a laughable budget, shoot 100 hours of tape with relatively untested equipment, face sniper fire, get ourselves arrested at gun-point, break many of the major rules (and probably all the minor ones) about sensible production methods, and somehow, after nearly a year in the editing room, end up with the first major documentary done on 1/2 inch videotape."

A striking example of the creative and political potential of the emergent video technology of the 1970s, The Irish Tapes includes rare interviews with members of the IRA and the individuals suffering the unrelenting violence in Belfast, together with Irish-American perspectives on "The Troubles," to conjure a deeply resonant verité portrait.

To introduce the screening, John Reilly's son, Lars Reilly, will be in conversation with EAI's Director of Distribution, Rebecca Cleman.






___________________________________

About Migrating Forms

Bringing together moving image work from a wide range of venues—from film festivals and biennials to museums and microcinemas—Migrating Forms bridges the gap between the film and art worlds by presenting a diverse collection of programs in the common context of the cinema. The festival includes new work and retrospective screenings by artists representing a broad spectrum of contemporary film and video practices. www.bam.org/MigratingForms



___________________________________


About EAI

EAI is one of the world's leading resources for moving image art. Founded in 1971, EAI is a New York-based nonprofit organization that fosters the creation, exhibition, distribution, and preservation of video and media art. EAI holds a major collection of over 3,500 new and historical media artworks, from groundbreaking early video by pioneering figures of the 1960s to new digital projects by today's emerging artists. EAI works closely with artists, museums, schools and other venues worldwide to preserve and provide access to this significant archive. EAI also presents public programs such as artists' talks, exhibitions and panels; extensive digital resources; viewing access; technical facilities, and educational services. EAI's Online Catalogue is a comprehensive resource on the artists and works in the EAI collection, and features expansive materials on media art's histories and current practices: www.eai.org

___________________________________

Friends of EAI Membership 2014

Become a 2014 Friends of EAI Member at one of five different levels and enjoy a range of wonderful benefits, including complimentary tickets to EAI's on-site public programs and special access to the artists and works in the EAI collection. Membership helps to support our programs and services, including our online resources, educational outreach, and vital preservation activities. By becoming a Friend of EAI, you support the future of media art and artists. Memberships begin at $40 ($25 for students).

For more information, and to become a member, please visit:
www.eai.org/eai/members.htm

___________________________________



Electronic Arts Intermix
535 West 22nd Street, 5th Floor
New York, NY 10011
t (212) 337-0680
f (212) 337-0679
info@eai.org

EAI on Facebook
EAI on Twitter