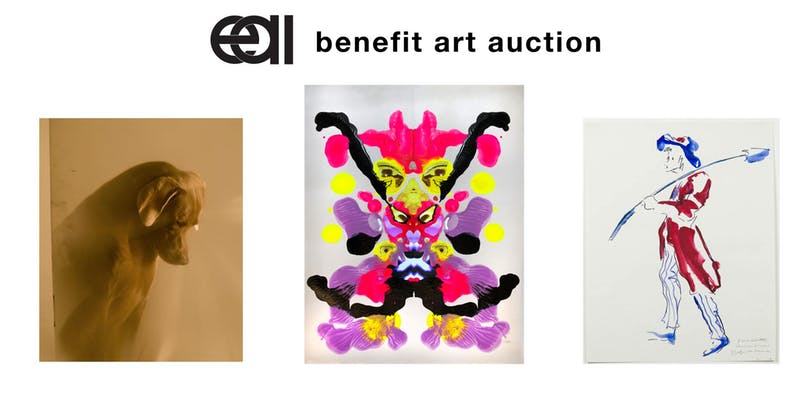 PPOW + EAI 535 West 22nd Street, 5th + 6th floor
Thursday, April 19th
EAI is pleased to announce its first-ever Benefit Art Auction, to be held on Thursday, April 19. This special event will raise essential funding towards our mission of preserving and providing access to media art's rich legacies, while fostering powerful new voices.
silent auction hosted by P·P·O·W
535 West 22nd Street, 6th floor, New York, NY
cocktail reception & screenings at EAI
535 West 22nd Street, 5th floor, New York, NY
online bidding available on
Artsy

The Sagamore Hotel 1671 Collins Avenue
Miami, Florida
On view during Art Basel Miami Beach
December, 2014 - March, 2015
EAI and The Sagamore Hotel in Miami Beach presented Screen Play: Moving Image Art, a special exhibition of moving image artworks for the public spaces of the hotel during Art Basel Miami Beach. Screen Play, guest curated by Lori Zippay, EAI's Executive Director, brought together video, film, and digital artworks drawn from the EAI collection across six decades. These works highlighted the cross-disciplinary relation of the moving image to other artistic media and forms—performance, photography, painting, drawing, sculpture—while also exploring the distinctive vocabularies of video, film, and digital media. The public encountered artists' moving image works in multiple public spaces of the hotel, as well as a dedicated "EAI TV Channel" for the hotel guest rooms. Screen Play featured moving image works by artists including Michael Bell-Smith, Takeshi Murata, Leslie Thornton, Jacolby Satterwhite, Joan Jonas, Merce Cunningham, Alex Hubbard, Dara Birnbaum, Shana Moulton, Lawrence Weiner, Steina, and John Baldessari.

Electronic Arts Intermix (EAI) 535 West 22nd Street, 5th floor
New York, NY 10011
Wednesday, January 15, 2014, 6:30 pm
EAI partnered with the Merce Cunningham Trust (MCT) to present a screening of Assemblage (1968, 58:03 min), a recently rediscovered lost film by legendary American dancer and choreographer Merce Cunningham. Unseen for decades, Cunningham's lush, kaleidoscopic dance film was reintroduced to the public at EAI in a special screening introduced by Alastair Macaulay, Chief Dance Critic of the New York Times.

A collaboration with director and former dancer Richard Moore, Assemblage features Cunningham dancing with his company in a public happening in San Francisco's Ghirardelli Square in November 1968. Cunningham's riveting performance—conceived from the beginning as a dance staged for the camera—is amplified by Moore's astonishing special effects and a soundtrack by John Cage, David Tudor and Gordon Mumma. Rediscovered after Cunningham's death, Assemblage was transferred from 16mm and colorized by artist and filmmaker Charles Atlas, himself a longtime collaborator of Cunningham's.

Image: Merce Cunningham and Dancers in Assemblage (1968) Photo © James Klosty, courtesy of the Merce Cunningham Trust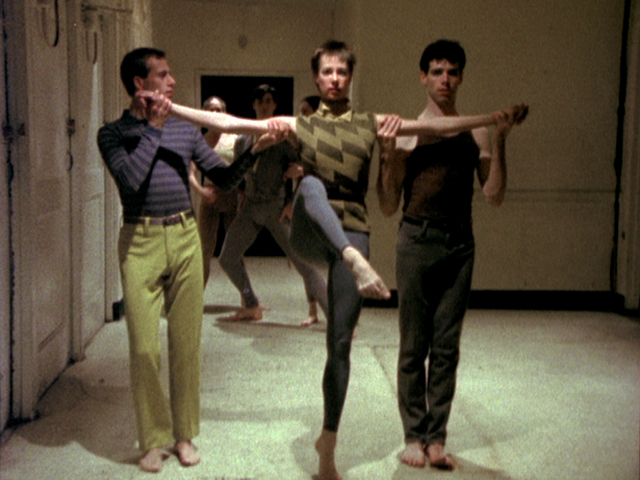 Migrating Forms
at BAM (Brooklyn Academy of Music) Peter Jay Sharp Building
BAM Rose Cinemas
30 Lafayette Avenue
New York, NY 11217
Sunday, December 15, 2013, 2:00 pm
EAI partnered with the Migrating Forms Festival to present a program of works that highlight Merce Cunningham's choreography for camera, featuring his close collaboration with artist and former Cunningham filmmaker-in-residence Charles Atlas, with whom he created a new and influential hybrid art they called "video-dance." The program also included a collaboration with Atlas, Nam June Paik, and Shigeko Kubota, staged for public television. Following the screening, Charles Atlas was in conversation with EAI?s Director of Distribution, Rebecca Cleman.

Electronic Arts Intermix (EAI) 535 West 22nd Street, 5th floor New York, NY 10011
Thursday, February 7, 2013
6:30 pm
EAI proudly presented the premiere screening of Exchange (1978/2013, 40:19 min), artist Charles Atlas' newly completed film based on the 1978 dance piece of the same name by legendary dancer/choreographer Merce Cunningham (1919-2009). Atlas—one of the foremost interpreters of dance, theater and performance on video and film—created the new film Exchange from never-before-seen footage that he shot in 1978 and that was only recently rediscovered by the Merce Cunningham Trust (MCT). The film captures a performance of Exchange by Cunningham and his company, with costumes and backdrop designed by Jasper Johns and music by David Tudor. Two of Atlas' earliest short films were screened before Exchange: More Joints (1972), featuring Cunningham's ankle in a starring role; and Nevada (1973), in which dancer and choreographer Douglas Dunn performs. Atlas introduced the screening and spoke about his long collaborative relationship with Cunningham.