Preservation
The EAI Preservation Program is a major initiative for the preservation and restoration of media artworks in the EAI collection, which is a unique artistic and cultural resource. This program was developed to ensure that this significant alternative artistic legacy is preserved and made accessible for future generations.
Founded in 1971, EAI holds one of the world's largest and most important historical collections of experimental video works. Spanning the 1960s through the present, the collection of over 3,500 works represents a rich survey of media art, from seminal works by video art pioneers to new digital works by emerging artists. Many of the works in the EAI collection are extremely rare. The EAI collection holds treasures of the emergent video art movement that are, quite literally, irreplaceable.
EAI's preservation efforts allow many historical single-channel video works to be made available for the first time in decades. Significant bodies of works by major artists such as Joan Jonas, Vito Acconci, Bruce Nauman, Anthony Ramos, Carolee Schneemann and Martha Rosler are also among those that have been preserved.
Access is a key element of this program. All works preserved through EAI are made available for educational and cultural distribution worldwide, and may be seen in our Viewing Room. EAI is also committed to providing access to resources on preservation and video art history.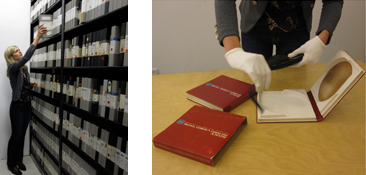 The EAI Online Resource Guide for Exhibiting, Collecting & Preserving Media Art is a comprehensive resource on current practices in single-channel video, computer-based art, and media installation. The Preservation section, created in collaboration with IMAP (Independent Media Art Preservation), includes best practices, basic questions, equipment and technical guidelines, case studies, resources, a media format guide, and much more. Documentation, conservation, storage and migration are among the issues covered.
A Kinetic History: The EAI Archives Online preserves and provides online access to rare documents and materials from EAI's extensive ephemeral archives. This project charts the history of the emergent video art movement — and EAI — and illuminates the cultural and artistic framework. Featuring primary materials and contextualizing essays that trace a rich trajectory of art, artists and ideas, this "living archive" links the history of media art to its future.
Restoration
The thousands of works in the EAI collection trace more than four decades of video technologies, from obsolete open reel helical scan tapes to the newest digital formats. EAI coordinates the cleaning, re-mastering, and migration of deteriorating media works from their original formats to archival formats such as Digital Betacam. Conservation work is carried out in close contact with the artists and under supervision at specialized facilities. All restoration efforts are case-by-case; works may be re-mastered or reconstructed from original image and sound elements, or migrated to more stable formats. Preserved works are stored off-site in a secure temperature and humidity-controlled environment.
Among the many major preservation projects that EAI has undertaken over the past twenty years are the following:
- Early analogue video works by Anthony Ramos
- Early films and videos of Carolee Schneemann
- Early films, video, and audio works by Lawrence Weiner
- The Super-8 films of Vito Acconci
- 16-mm films and videos of Bruce Nauman
- Early videos works of Joan Jonas

EAI's new Digitization Project, supported by a grant from the New York State Council on the Arts, has allowed us to begin creating and storing uncompressed digital files of works in the collection, to ensure future digital viability.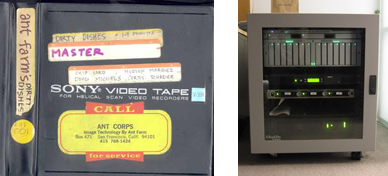 EAI Online Catalogue & Database
EAI's dynamic archival database represents an invaluable resource on the current status and history of one of the world's leading collections of video art. In-depth information tracking artist and title details, as well as distribution and preservation histories, are maintained in the administrative end of the database. Public access to the searchable database is through EAI's Online Catalogue, a comprehensive resource that includes artists' biographies, bibliographies, QuickTime excerpts, descriptions of works, and extensive resource materials.
History
EAI's Preservation Program was one the first major initiatives for conserving and cataloging a collection of experimental video art in the United States. In 1985-86, EAI received one of the first preservation grants from the New York State Council on the Arts for the conservation of the EAI video collection. This grant facilitated the research of preservation techniques and the restoration of half-inch open reel tapes, which were cleaned and transferred to 1" analog tape, the archival standard of that time. In the same year, EAI received a grant to participate in the National Alliance of Moving Image Database, a project to catalogue important collections of media art using a Marc-format database. These two initiatives formed the foundation of EAI's ongoing preservation efforts.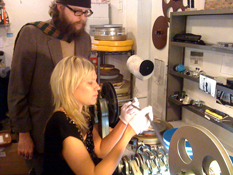 EAI's media archivist inspecting a restored film print at Anthology Film Archives.
Preservation Funding Support
EAI's Preservation Program has received funding support over the years from the New York State Council on the Arts, a state agency, the National Endowment for the Arts, a federal agency, and the New York City Department of Cultural Affairs. EAI has received foundation support for our preservation activities from the Daniel Langlois Foundation, New Art Trust, Bay Foundation, National Video and Television Preservation Fund, and Avant-Garde Masters Program of the National Film Preservation Fund.