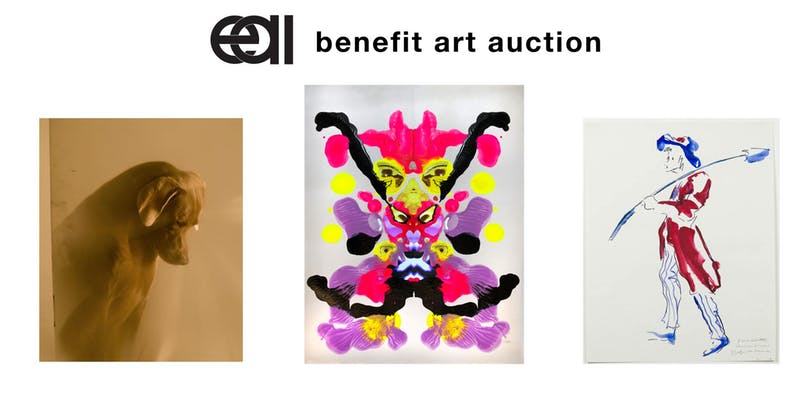 PPOW + EAI 535 West 22nd Street, 5th + 6th floor
Thursday, April 19th
EAI is pleased to announce its first-ever Benefit Art Auction, to be held on Thursday, April 19. This special event will raise essential funding towards our mission of preserving and providing access to media art's rich legacies, while fostering powerful new voices.
silent auction hosted by P·P·O·W
535 West 22nd Street, 6th floor, New York, NY
cocktail reception & screenings at EAI
535 West 22nd Street, 5th floor, New York, NY
online bidding available on
Artsy

SVA Theatre 333 W 23rd Street
New York, NY 10011
Friday, November 4, 2016
7:00pm
Free admission
For thirty-two years, artists Muntadas and Reese have been compiling a history of presidential campaign spots, following the evolution of political advertising from its beginnings in 1952 to the present. Political Advertisement is a personal vision of how politics and politicians are presented through the medium of TV.

For the past nine general elections, the artists have premiered the latest version of the piece in a public presentation, followed by a discussion about the impact of campaign advertising. This year author Michelle Goldberg, senior contributing writer to Slate.com, will moderate a discussion on the role of advertising in the 2016 election. Her work has also appeared in The New Yorker, Rolling Stone, The Nation, The Guardian (UK) and The New Republic.

Occurring the final weekend of this year's campaign, this event will offer a timely and important outlet for discussion. The New York screening takes place at the School of Visual Arts Theatre, located at 333 West 23rd Street, on Friday, November 4th at 7:00pm. This screening is a shared presentation by the School of Visual Arts and EAI.

The NY Art Book Fair 2009
P.S.1 Contemporary Art Center 22-25 Jackson Ave at the intersection of 46th Ave
Long Island City, NY 11101
Opening Reception: Thursday, October 1, 6-8 pm
Friday & Saturday, October 2-3, 11 am - 7 pm
Sunday, October 4, 11 am - 5 pm

EAI participated in The NY Art Book Fair 2009, organized by Printed Matter at P.S.1 Contemporary Art Center. EAI's project space, installed in P.S.1's basement vault, presented FREE TRADE, a program of videos exploring economies of exchange in a globalized world: the circulation of art, ideas, information and capital. On view were new and historical works, drawn from EAI's extensive collection, by artists including Chris Burden, Bernadette Corporation, Martha Rosler, Dan Graham, VALIE EXPORT, Dara Birnbaum, Kalup Linzy, Seth Price, Lawrence Weiner, Harry Dodge and Stanya Kahn, Ken Jacobs, Gordon Matta-Clark, Muntadas, Takeshi Murata, Leslie Thornton and Ryan Trecartin.

Park Avenue Armory Park Avenue at 67th Street, New York City
February 21 - 25, 2008
Electronic Arts Intermix (EAI) and The Center for Curatorial Studies at Bard College (CCS Bard) presented a series of video programs at The Park Avenue Armory during the 20th annual Art Show, organized by the Art Dealers Association of America (ADAA). EAI invited the first year graduate students in the CCS program to curate video programs out of the EAI collection. Four separate programs were produced by the students, which were exhibited on monitors in the Armory's main Hallway between February 21-25, 2008.

Espai E ART Torrijos, 68, Barcelona, Spain
November 10-15 & 17-18, 2005,
As part of the LOOP'05 Festival, this video exhibition included a series of projections of Muntadas' videos from the EAI collection that critically explore the phenomena of television and broadcast news. The program was also presented as a local cable broadcast in the Gracia neighborhood of Barcelona.

LOOP'04 Barceló Hotel Sants
Pl. dels Països Catalans s/n, 08014 Barcelona, Spain
November 18 - 21, 2004
EAI was represented as a featured video art institution at the second edition of LOOP, the world's premiere video art fair, held annually in Barcelona, Spain. EAI presented new single-channel video and interactive media by artists who expand definitions of "video art," including Cory Arcangel and Kristin Lucas as well as vital yet rarely screened historical works by artists such as Theresa Hak Kyung Cha and Juan Downey. LOOP '04 was held from November 18 to 21, 2004 at the Barceló Hotel Sants, located at the central railway station Barcelona-Sants (RENFE).

Museum of Modern Art New York City
February 26 - April 30, 2002
As the keystone of EAI's 30th anniversary events, Museum of Modern Art presented First Decade: Video from the EAI Archives, a major retrospective that looked at the early days of video through EAI's historical collection. Featuring 60 works, the twelve-part program explored themes and issues ranging from performance and the body; narrative; cultural essays; activism, and poetics.