Embracing and integrating new media platforms for installation and context-based artworks, Perry explores the "slippages of identity" that define subjective experience in the digital realm. Extending the formal, conceptual and political strategies of artists such as Kara Walker and David Hammons, two major influences, Perry is dexterous in applying traditional production methods to the most current technology.

Aesthetically resonant works such as Black Girl As A Landscape and Black/Cloud (both 2010), or the frenetic two-channel work Double Quadruple Etcetera Etcetera I & II (2013), use painterly and photographic composition and choreographed movement—further abstracted by Perry?s vivid post-production manipulations—to call attention to racial objectification. In Lineage for a Multiple-Monitor Workstation: Number One (2015), Perry references film and television production, intertwining the syntax of mass media and commercial technology with the artist's own personal and familial symbolism, resulting in a charged hybrid that both questions and celebrates the power of heritage and tradition.

My Twilight Zone Thing re-stages the Rod Serling-narrated introductions to the popular 1960s-era sci-fi TV series, casting only participants of color in what was a predominantly white male narrative—albeit one that sought to unsettle the conservative homogeneity of mid-century America with tales of UFOs and other dimensions. Perry exploits this scenario with wit and insightful critique, playing with the radical potential of familiar pop-culture iconography suddenly rendered unfamiliar. Perry states, "...My process is improvisational and holds no consistent aesthetic shape...Using materials and pre-existing media in the vehicles of performance and video production creates a space for the uncanny nature of the thing or object...The ability to strip, expand, or abstract content of its form/identity, material, geological, digital, cultural, and physical is powerful and has the ability to be a radical act."


___________________________________


Sondra Perry was born in Perth Amboy, New Jersey, in 1986, and holds an MFA from Columbia University and a BFA from Alfred University. In 2015, Perry's work appeared in the fourth iteration of the Greater New York exhibition at MoMA/PS1. Other exhibitions include Disguise: Masks and Global African Art, Seattle Art Museum, Seattle, 2015; A Curious Blindness, Miriam & Ira D. Wallach Art Gallery, New York (2015); Of Present Bodies, Arlington Arts Center, Arlington VA (2014); and Young, Gifted, & Black: Transforming Visual Media, The Camera Club of New York (2012). Perry performed Sondra Perry & Associate Make Pancakes and Shame the Devil at the Artist's Institute, New York, in 2015. Perrys work has been screened at venues such as Les Voutes, Paris, France; Light Industry, New York; Video Art and Experimental Film Festival, Tribeca Cinemas, New York; Lu Xun Academy of Fine Arts Museum, Shenyang China; and LOOP Barcelona Media Arts Festival. Perry was a panelist at Black Artists on Social Media at the Brooklyn Museum, NY. In 2014 Perry was Guest Lecturer at the School of Visual Arts, New York, for the course History, Theory, and Practice of the Image, and has participated in residencies at the Skowhegan School of Painting and Sculpture, Vermont Studio Center, Ox-bow, and the Experimental Television Center. Perry is currently based in Houston, Texas as part of the artist-in-residence program CORE at the Museum of Fine Arts, Houston.

___________________________________
About EAI

Founded in 1971, Electronic Arts Intermix (EAI) is a nonprofit arts organization that fosters the creation, exhibition, distribution, and preservation of moving image art. A New York-based international resource for media art and artists, EAI holds a major collection of over 3,500 new and historical media artworks, from groundbreaking early video by pioneering figures of the 1960s to new digital projects by today's emerging artists. EAI works closely with artists, museums, schools and other venues worldwide to preserve and provide access to this significant archive. EAI services also include viewing access, educational initiatives, extensive online resources, technical facilities, and public programs such as artists' talks, screenings, and multi-media performances. EAI's Online Catalogue is a comprehensive resource on the artists and works in the EAI collection, and features expansive materials on media art's histories and current practices: www.eai.org
___________________________________


Electronic Arts Intermix
535 West 22nd Street, 5th Floor
New York, NY 10011
t (212) 337-0680
f (212) 337-0679
info@eai.org
EAI on Facebook
EAI on Twitter
___________________________________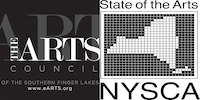 EAI's Public Programs are supported, in part, by public funds from the New York City Department of Cultural Affairs in partnership with the City Council, and are also made possible, in part, by the New York State Council on the Arts with the support of Governor Andrew Cuomo and the New York State Legislature. EAI receives Program Support from the Andy Warhol Foundation for the Visual Arts. This program is also funded by New York State Council on the Arts' Electronic Media and Film Presentation Funds grant program, administered by The ARTS Council of the Southern Finger Lakes. (www.NYSCA.org www.eARTS.org).