Electronic Arts Intermix (EAI) is pleased to announce a special weekend exhibition on the occasion of the anniversary of Tony Martin's participatory installations at the Howard Wise Gallery in 1969. This three-day engagement at the Emily Harvey Foundation will feature photographs, posters, drawings, visual scores, and video documentation—as well as a demonstration and conversation with the artist—to illuminate Martin's visionary interdisciplinary career, emblematic of the dynamic context of '60s-era experiments in sound and electronics in both San Francisco and New York.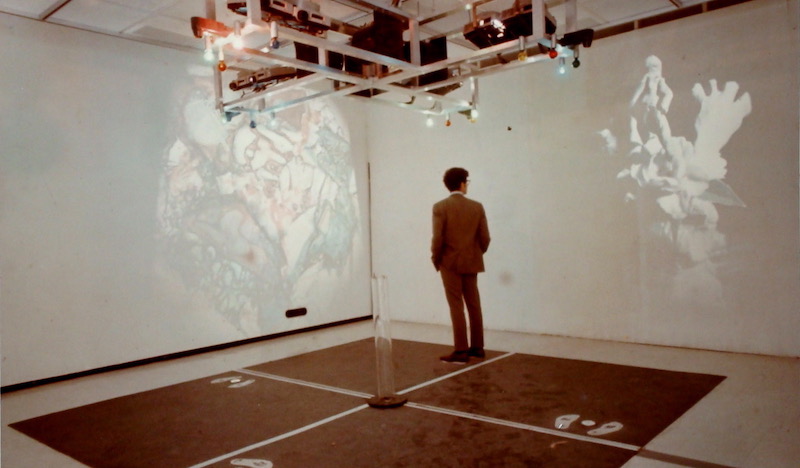 Emily Harvey Foundation
537 Broadway
New York, NY 10012
emilyharveyfoundation.org

Opening reception and painted slide demonstration:
Friday, November 8th, 7 pm

Tony Martin in conversation with Erin Stout:
Saturday, November 9th, 3 pm
RSVP here

Gallery hours:
Saturday and Sunday, November 9 to 10th, 1 pm to 6 pm

Tony Martin's expanded installation work built upon and departed from the bedrock of music and painting in equal measure. Studying fine arts at the Art Institute of Chicago in the 1950s, he relocated to San Francisco in 1960 where he became acquainted with time-based artists such as Anna Halprin, Pauline Oliveros, Morton Subotnick, and Ramon Sender, the four of whom he collaborated with as founding Visual Director of the San Francisco Tape Music Center. Martin began to adapt his painting background into liquid light projection, developing new techniques and approaches, and accompanying a wide array of performances including the first presentation of Terry Riley's In C, as well as concerts by Jefferson Airplane and the Grateful Dead. During this time, he contributed visual environments for artists such as Anna Halprin, Ken Dewey, James Tenney, and poet Michael McClure, and mounted a solo exhibition at the legendary Batman Gallery. 

A vital component of Martin's artistic projects, and his most significant departure from traditional visual art, is the involvement of his viewers in "polysensorial" installations that encourage and facilitate participation. Influenced by the aleatoric processes of John Cage, as well as the collaborative and improvisational spirit of jazz performance, postmodern dance, and the burgeoning counterculture, these works understood the viewer as an ingredient of the piece, as much an element of its architecture as its other materials.

Martin relocated to New York City in the late '60s, joining New York University's Intermedia Program and sharing studio space with Morton Subotnick and Len Lye. At this time, with Subotnick and Don Buchla, he designed an audio-visual system for the nightclub the Electric Circus, and was offered the opportunity to mount a solo show at the Howard Wise Gallery. Wise, a visionary advocate for the Kinetic and Light Art movements—as well as the future founder of Electronic Arts Intermix—provided Martin with the resources to produce a number of immersive, participatory installation works between 1968 and 1970. The Game Room (1968) divided the gallery into four colored quadrants and encouraged onlookers to choose where to stand, tripping photoelectric cells with particular visual and sonic consequences, its playful engagement of technology countering the ominous advances of the Cold War. Other "involvements," utilizing viewer-active sensors (The Well) and inventive use of two-way mirrors (Door, You Me We, Column), soon followed.

Throughout his career, Martin has pursued a humanizing of technology, inviting visitors to participate and influence the activities of his installations and seeking to call "attention to the inner life of the individual within the complex dynamics of our interwoven lives"—an important through-line in not only his work, but the development of media art more generally. 

At the Emily Harvey Foundation, ephemera from these installations, alongside material related to other collaborations with Pauline Oliveros, Anna Halprin and more, will be displayed. On Friday evening, in tandem with the show's opening celebration, Martin will project a selection of hand-painted slides to discuss his experiments with light projection. On Saturday afternoon, scholar Erin Stout will appear in conversation with Martin, discussing the arc of his career and its relationship to the post-war avant-garde and the emergence of new media. 

Erin Marie Stout is a PhD candidate in Art History and Criticism at Stony Brook University. Her dissertation, "You, Me, We: The Technosocial Work of Tony Martin and the Audiovisual Avant-Garde," is the first comprehensive examination of this intermedia pioneer.

Organized by Rebecca Cleman and Tyler Maxin of Electronic Arts Intermix.

___________________________________



Electronic Arts Intermix (EAI) is a nonprofit arts organization that fosters the creation, exhibition, distribution, and preservation of moving image art. A New York-based international resource for media art and artists, EAI holds a major collection of over 3,900 new and historical media artworks, from groundbreaking early video by pioneering figures of the 1960s to new digital projects by today's emerging artists. EAI works closely with artists, museums, schools and other venues worldwide to preserve and provide access to this significant archive. EAI services also include viewing access, educational initiatives, extensive online resources, technical facilities, and public programs such as artists' talks, screenings, and multi-media performances. EAI's Online Catalogue is a comprehensive resource on the artists and works in the EAI collection, and features expansive materials on media art's histories and current practices: www.eai.org

The Emily Harvey Foundation (EHF), operating between New York and Venice, is a not-for-profit organization created in 2004. At its New York base, the EHF has developed an ambitious contemporary art program focused through the intellectual scope of its archives and the principle postwar projects represented in its art collection: Mail Art, Fluxus, Concept Art, Early Video, and Performance Art. Its primary concern is to give voice, and momentary material form, to new research, and to discursive and process-based practices but not necessary art in its more commercial, traditional manifestations. Its aim is to nurture collaborative and cross-disciplinary approaches, while generating alternatives to more established practices and formats in contemporary art.
___________________________________
Electronic Arts Intermix
535 West 22nd Street, 5th Floor
New York, NY 10011
t (212) 337-0680
f (212) 337-0679

___________________________________
This program is made possible in part by public funds from the New York City Department of Cultural Affairs, in partnership with the City Council; and New York State Council on the Arts with the support of Governor Andrew M. Cuomo and the New York State Legislature.