Public Programs
Current & Upcoming Public Programs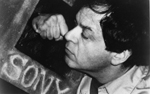 Electronic Arts Intermix (EAI)
535 West 22nd Street, 5th floor
New York, NY 10011
Thursday, October 27, 2016
EAI pays tribute to Jaime Davidovich (1936-2016) with a daylong screening of video works by the pioneering conceptual artist. Working with video, installation, and local cable television programming, Davidovich was a major and influential figure in the vanguard of individuals and groups exploring art in the context of mass media. The screening will include a selection of key works, including episodes of the cable access program The Live! Show (1979-1984), which Davidovich hosted in the guise of his buoyant TV alter-ego, Dr. Videovich.

Multiple works will be scheduled throughout the day, with a short break at 3:00pm. A special toast will take place at 6:00pm, followed by a screening of Adventures of the Avant-Garde (1981) and Outreach: The Changing Role of the Art Museum (1977), a collaboration with art critic Gregory Battcock, at 6:30pm.

Program
12:00pm - 6:00pm
(program repeats twice, with a short break at 3:00pm)

Blue, Red, Yellow
1974, 34 min, color, silent (on monitor)

La Patria Vacia
1975, 11 min, b&w, sound, Spanish

Adventures of the Avant-Garde
1981, 10:30 min, color, sound

Portrait of the Best Artist
1982, 5:38 min, color, sound

The Gap
1982-83 min, 15:50 min, color, sound

The Live! Show (April 29, 1983)
1983, 27 min, color, sound

The Live! Show (February 18, 1983)
1983, 29 min, color, sound

The Live! Show (January 21, 1983)
1983, 22:27 min, color, sound

The Live! Show (January 28, 1983)
1983, 29:07 min, color, sound

Saludos Amigos!
1984, 21 min, color, sound

Special toast at 6:00pm, screening at 6:30pm:

Adventures of the Avant-Garde
1981, 10:30 min, color, sound

Outreach: The Changing Role of the Art Museum
1977, 27 min, color, sound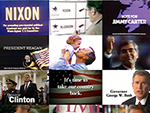 SVA Theatre
333 W 23rd Street
New York, NY 10011
Friday, November 4, 2016
7:00pm
Free admission
For 32 years, artists Muntadas and Reese have been compiling a history of presidential campaign spots following the evolution of political advertising from its beginnings in 1952 to the present. Political Advertisement is a personal vision of how politics and politicians are presented through the medium of TV.

For the past nine general elections, the artists premiere the latest version of the tape in a public presentation, followed by a discussion about the impact of campaign advertising. This year author Michelle Goldberg, senior contributing writer to Slate.com, will moderate a discussion on the role of advertising in the 2016 election. Her work has also appeared in The New Yorker, Rolling Stone, The Nation, The Guardian (UK) and The New Republic.

Occurring the final weekend of this year's campaign, this event will offer a timely and important outlet for discussion as many prepare to cast their ballots. The New York screening takes place at the School of Visual Arts Theatre, located at 333 West 23rd Street, on Friday, November 4th at 7 PM. This screening is a shared presentation by the School of Visual Arts and Electronic Arts Intermix.

Political Advertisement IX 1952-2016
Muntadas and Reese first started working on this video project in 1984. This year they are presenting the 9th version. This fascinating anthology, updated to include ads from the 2016 presidential campaign, documents the selling of the American presidency since the 1950s. Surveying the American televisual campaign process from Eisenhower to the Clinton and Trump campaigns, the artists trace the history of TV ads as political strategy and marketing technique. The artists state: "Looking back at these political ads provides a key to understanding the evolution of images on television and the marketing of politics."

Bios
Antoni Muntadas was born in Barcelona in 1942 and has lived in New York since 1971. His work addresses social, political and communications issues, the relationship between public and private space within social frameworks, as well as channels of information and the ways they may be used to censor central information or promulgate ideas. He works on projects in different media such as photography, video, publications, Internet and multi-media installations. Since 1995, Muntadas has grouped together a set of works and projects titled On Translation emphasizing issues of interpretation, transcription and cultural translation. Their content, dimensions and materials are variable, and focus on the author?s personal experience and artistic activity in numerous countries over forty years. His most recent project Asian Protocols explores similarities, differences and conflicts between Korea, Japan, and China.

Marshall Reese is a Brooklyn-based artist working in various media including video, information networks, custom hardware and software, editions and temporary public art events. Since the mid-eighties he has collaborated with Nora Ligorano as LigoranoReese Their work is an ongoing investigation into the impact of technology on society and the rhetoric of politics and visual culture in the media.  LigoranoReese have presented 7 site-specific public works at the U.S. political conventions focusing on climate and political issues. These installations incorporate ice sculptures weighing several tons, video and live streaming. For both the RNC in Cleveland and the DNC in Philadelphia, they unveiled a 4000-pound sculpture carved in ice spelling out the words The American Dream.

Political Advertisement IX is sponsored by the following School of Visual Arts Departments: MFA Art Practice Department; MFA Art Writing, MFA Computer Art Department; MFA Fine Arts Department; MFA Social Documentary Department; MFA Photography, Video and Related Media; and BFA Fine Arts Department. It is being co-presented by Electronic Arts Intermix (EAI), a New York-based non-profit media arts resource and distribution service that is celebrating its 45th anniversary.

This presentation is made possible in part with public funds from the New York State Council on the Arts, Electronic Media and Film Presentation Funds grant program, administered by The ARTS Council of the Southern Finger Lakes.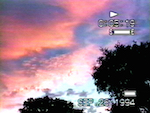 Electronic Arts Intermix (EAI)
535 West 22nd St. 5th Fl.
New York, NY 10011


April–September, 2016


April 27: "Edited at EAI": 1972-77
June 16: "Edited at EAI": Artist to Artist
June 22: "Edited at EAI": Videos by Tom Rubnitz
July 27: "Edited at EAI": Restless Generation
Aug 16: "Edited at EAI": Video Interference
Sept 22: "Edited at EAI": Dara Birnbaum

As part of EAI's ongoing 45th anniversary celebrations, we launched a series of screenings that highlight a less well-known but historically important and creatively fertile area of our programs: EAI's Editing Facility for artists. Established in 1972 with early 1/2" open reel editing equipment, EAI's facility was one of the first such post-production workspaces for artists in the U.S. Over five decades, an extraordinary group of artists has used EAI's facility to create some of the most significant works in media art's diverse histories. Many of these artists and works will be featured in screenings throughout our 45th anniversary year.

The first screening on April 27, "Edited at EAI": 1972-77 featured an eclectic selection of works from the 1970s, charted the alternative artistic, political, and cultural expressions of artists experimenting with emergent video editing technologies and strategies. The program included early works from the 1970s by Ant Farm, Juan Downey, Jean Dupuy, Shigeko Kubota, Mary Lucier, Raindance, Anthony Ramos, Ira Schneider, and Hannah Wilke, among others.

On June 16 Artist to Artist featured the rich collaborative process and the creative relationships between artists and the artists/editors with whom they worked, through the lens of EAI's editing facility. Video works by Cheryl Donegan, Ursula Hodel, Nam June Paik, Carolee Schneemann, and Michael Smith—all edited at EAI—were shown together with works by Robert Beck, Seth Price and Trevor Shimizu, three internationally recognized artists who spent formative years as EAI editors. Artists Robert Buck and Cheryl Donegan were in conversation following the screening.

On June 22 EAI celebrated the video work of Tom Rubnitz (1956-1992), whose deliriously camp genre parodies and music videos capture the anarchic spirit and talents of the 1980s East Village scene of Club 57 and the Pyramid Club. The rich body of work that Rubnitz edited at EAI includes TV spoofs, music videos, and the musical parody Psykho III The Musical (1985). Artist John Kelly participated in a conversation following the screening.

On July 27 Restless Generation focused on a group of conceptually driven performance videos by women artists who reenergized and redefined the genre in the 1990s, as seen through the lens of EAI's editing facility. These lo-fi performances staged for the camera­—by artists such as Vanessa Beecroft, Alix Lambert, Kirsten Mosher, Alix Pearlstein, and Beverly Semmes, among others—evoke the strategies of the first generation of artists working with video in the early 1970s, even as their bold stylizations, ironic sensibility, and explicit nods to consumer culture announced a fresh approach to representations of female identity and the body that spoke emphatically to its time.

On August 16 the series continued with an evening of activist video work from the late 1980s through the mid-1990s. Shot largely on low-end consumer equipment and edited, often off-hours, at EAI, these works use video as an activist tool, confronting urgent issues around the AIDS crisis, race, gender, and sexuality. Videos by ACT UP affinity groups DIVA TV (Damned Interfering Video Activist Television) and House of Color, as well as art collective X-PRZ, were screened along with work by artists Robert Beck and Tom Kalin. Although rooted in the specific political and cultural contexts of that moment, these powerful activist voices