Public Programs
Current & Upcoming Public Programs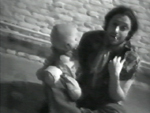 Electronic Arts Intermix (EAI)
535 West 22nd Street, 5th floor
New York, NY 10011
Thursday, December 12, 2013, 6-8 pm
Please join EAI for a special event celebrating the publication of Running n Chanting n Falling n Ranting, a new 257-page book by artist, composer and musician Charlemagne Palestine. Focusing on Palestine's extraordinary body of performance videos from the early 1970s to the present, this artist book features an interview between Palestine and Serpentine curator Hans Ulrich Obrist, an introduction by EAI Executive Director Lori Zippay, and 204 images from his video works. Inspired by the lo-fi animation of flip books, Palestine translates the dynamism of his video performances through sequences of stills that capture key moments from these works, many of which are in EAI's collection.

During the launch event, EAI will screen Where It's Coming From (1977, 56:50), an extended video conversation between Palestine and Wies Smals that becomes a performance in its own right. Palestine will also be present to sign copies of his artist book, which will be available for purchase at the event.

The publication of Running n Chanting n Falling n Ranting coincides with the opening on December 14th of Bodyy Musicxx, a solo exhibition of early and recent video works by Palestine at Sonnabend Gallery in New York. Palestine's videos can also be viewed by appointment in the EAI Viewing Room, free of charge.