Public Programs
Current & Upcoming Public Programs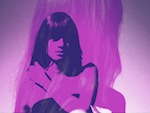 Times Square
New York, NY
December 1-30, 2014
every night from 11:57 pm–midnight

EAI is pleased to partner with the Times Square Advertising Coalition (TSAC) and Times Square Arts to present Charles Atlas and Antony's You Are My Sister (TURNING). Atlas and Antony have joined forces to create this special remix, which will be shown on Times Square's elctronic billboards from 11:57 pm to midnight each night in December leading up to New Year's Eve, as part of Midnight Moment. For Times Square, Atlas has created a special remix of his vivid, multi-dimensional video portraits of women, which were originally processed and projected live as part of TURNING, a performance collaboration with Antony. In the live performances, Atlas' video visualization was paired with Antony's song "You Are My Sister," and his images mirror the lyrics' powerful message of strength, sisterhood, and transcendence. This will mark the first time that a Midnight Moment will also be available to the public online with audio.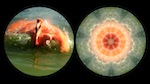 The Sagamore Hotel
1671 Collins Avenue
Miami, Florida
On view during Art Basel Miami Beach
December 2014
Join EAI at the Sagamore Hotel in Miami Beach for Screen Play: Moving Image Art, a special exhibition of moving image artworks for the public spaces of the hotel during Art Basel Miami Beach. Screen Play, which was guest curated by Lori Zippay, EAI's Executive Director, brings together video, film, and digital artworks drawn from the EAI collection across six decades. These works highlight the cross-disciplinary relation of the moving image to other artistic media and forms—performance, photography, painting, drawing, sculpture—while also exploring the distinctive vocabularies of video, film, and digital media. The public will encounter artists' moving image works in multiple public spaces of the hotel, as well as a dedicated "EAI TV Channel" for the hotel guest rooms. Screen Play features moving image works by artists including Michael Bell-Smith, Takeshi Murata, Leslie Thornton, Jacolby Satterwhite, Joan Jonas, Merce Cunningham, Alex Hubbard, Dara Birnbaum, Shana Moulton, Lawrence Weiner, Steina, and John Baldessari.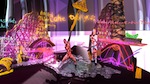 Electronic Arts Intermix (EAI)
535 West 22nd Street, 5th floor
New York, NY 10011
December 10, 2014
6:30 pm
EAI is pleased to present an artist talk and conversation with emerging, multi-disciplinary artist Jacolby Satterwhite. In dynamic video works that bring together 3-D animation, drawings, and live performative elements, Satterwhite explores themes of memory, desire, personal and public mythology. Populating his digital realms with multiple avatars of himself dressed in elaborate cyborgian costumes, he engages with the drawn objects as extensions of the body. At EAI, Satterwhite will screen new works in progress and discuss his practice and process in performance and digital animation, followed by a question and answer session with the audience. This event launches EAI's distribution of Satterwhite's moving image work.