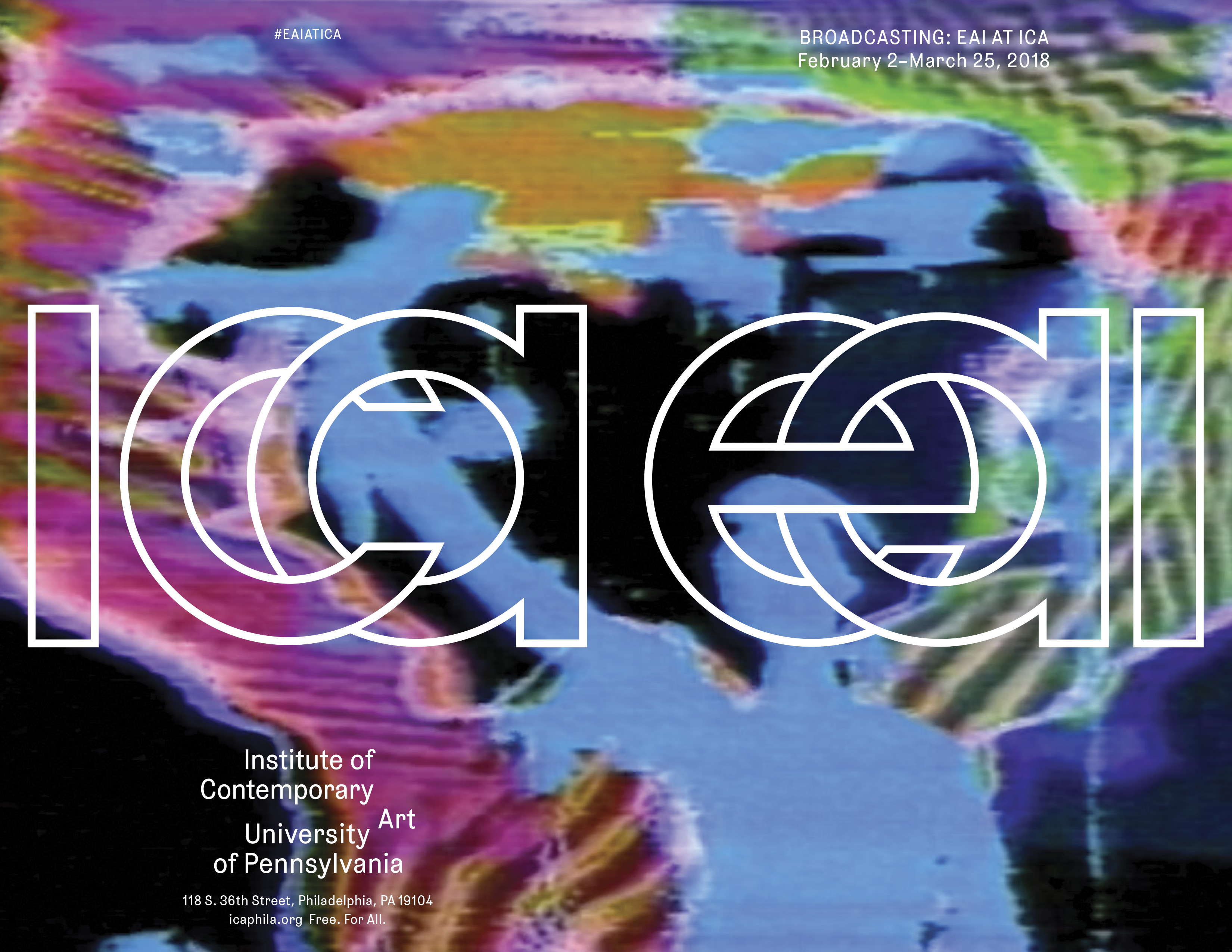 Through March 25th.

Electronic Arts Intermix (EAI) is pleased to co-present Broadcasting: EAI at ICA at the Institute of Contemporary Art (ICA), Philadelphia, February 2nd through March 25th. Featuring works by artists including Robert Beck, Dara Birnbaum, Tony Cokes, Ulysses Jenkins, JODI, Shigeko Kubota, Kristin Lucas, Shana Moulton, Trevor Shimizu, and TVTV, the exhibition will focus on how artists exploit the act of broadcasting as a subject, as a means of intervention, and as a form of participation across a variety of displays.

The word "broadcast" originated as an agricultural term meaning to disperse seeds widely, but became a figurative description for communications technology in the radio age. In the television era, with which broadcasting is most synonymous, the introduction of personal video equipment fostered a more dynamic interpretation, facilitating a two-way flow of information that resonates with contemporary participatory media. In this spirit, the physical walls of the gallery will extend beyond ICA through a series of collaborations with Lightbox Film Center, PhillyCAM, Scribe Video Center, Slought, Anthology Film Archives, EAI, and EMPAC.

Broadcasting: EAI at ICA is co-curated by Alex Klein, Dorothy & Stephen R. Weber (CHE'60) Curator, ICA and Rebecca Cleman, Director of Distribution, Electronic Arts Intermix (EAI)


Related Programs in New York City
2/16:On the Air: Artist Television
Anthology Film Archives, 7:30 PM
This edition of Anthology's ongoing series focused on artist-led television experiments. Expect surprises, innovations, and the unclassifiable — including Ernie Kovacs, Stan Douglas, Chris Burden, Dara Birnbaum, and more.
3/22: Ulysses Jenkins: Artist Talk and Screening
Electronic Arts Intermix (EAI), 7 PM
EAI is pleased to present an evening with Ulysses Jenkins, featuring rarely screened videos that demonstrate Jenkins's singular work in video and communications technologies. Following the screening, Jenkins will be in conversation with EAI's Director of Distribution, Rebecca Cleman.
Related Programs in Philadelphia
2/7: Broadcasting: Means of Production
ICA Galleries, 6:30 PM
A conversation with artists Tony Cokes and Antoine Catala, focused on how media artists approach the production and distribution of their work. This event will be recorded live for broadcast, via PhillyCAM.

2/28:Broadcasting: Variety Show Special Lightbox Film Center, 7 PM
Extending the exhibition beyond the walls of the gallery, this screening will consider the legacy of television personality Ernie Kovacs (whose first appearances were on NBCs Philadelphia affiliate) within a larger context of artists making work for or about broadcast, from performative interventions to critiques of representation within mass media.

3/18: Community Visions Retrospective
Scribe Video Center, 12:30 PM
Since 1990, Scribe Video Center has guided over 75 community and activist organizations through the production of short documentaries and neighborhood portraits—this program will be a retrospective of selected works produced through the Community Visions program.

2/17 - 3/25: Broadcasting: Guerrilla Media
Slought
An extension of the exhibition, exploring activist strategies undertaken by media collectives such as TVTV, Video Venice News, Squat Theater, and Paper Tiger TV.

3/2: Broadcasting: Alternative Television
PhillyCAM Studios, 7 PM
Just in time for awards season: a First Friday Live Culture event that revisits the satirical documentary TVTV Looks at the Oscars (1976) by the guerrilla television collective TVTV, featuring Lily Tomlin, among other Hollywood notables. This event will be recorded live for broadcast, via PhillyCAM.

3/21: Broadcasting: Transmission
ICA Galleries, 6:30 PM
In our final conversation of the series we will consider various technologies of transmission not just as a mode of viewership, but as a tool of communication. With artists Ulysses Jenkins and Sondra Perry.
Related Programs in New York State
3/26: Ulysses Jenkins
EMPAC, 7 PM
Organized as part of the Other Uses film series, Ulysses Jenkins will screen work made from 1970s until present, beginning with his filming of the Watts festival.
About EAI
Electronic Arts Intermix (EAI) is a nonprofit arts organization that fosters the creation, exhibition, distribution, and preservation of moving image art. A New York-based international resource for media art and artists, EAI holds a major collection of over 3,500 new and historical media artworks, from groundbreaking early video by pioneering figures of the 1960s to new digital projects by today's emerging artists. EAI works closely with artists, museums, schools and other venues worldwide to preserve and provide access to this significant archive. EAI services also include viewing access, educational initiatives, extensive online resources, technical facilities, and public programs such as artists' talks, screenings, and multi-media performances. EAI's Online Catalogue is a comprehensive resource on the artists and works in the EAI collection, and features expansive materials on media art's histories and current practices: www.eai.org