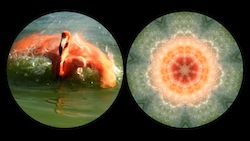 Binocular Menagerie (2014), Leslie Thornton
Screen Play:
Moving Image Art

On view during Art Basel Miami Beach

Sagamore, The Art Hotel
1671 Collins Avenue
Miami Beach, Florida
Screen Play brings together a selection of film, video and digital artworks that present artists' dynamic engagements with the moving image across six decades. Drawn from EAI's extensive archive, these works highlight the cross-disciplinary relation of the moving image to other artistic media and forms—performance, photography, painting, drawing, sculpture—while also exploring the distinctive languages of video, film and digital media.

The public will be able to view artists' moving image works on screens in multiple public spaces of The Sagamore Hotel, as well as on an "EAI TV Channel" for the hotel guest rooms.

Screen Play features moving image works by artists including Takeshi Murata, Leslie Thornton, Jacolby Satterwhite, Joan Jonas, Merce Cunningham, Alex Hubbard, Dara Birnbaum, Shana Moulton, Michael Bell-Smith, Lawrence Weiner, Steina, Nam June Paik, and John Baldessari.

Screen Play was guest curated by Lori Zippay, EAI's Executive Director.
___________________________________
About EAI

EAI is one of the world's leading resources for moving image art. Founded in 1971, EAI is a New York-based nonprofit organization that fosters the creation, exhibition, distribution, and preservation of video and media art. EAI holds a major collection of over 3,500 new and historical media artworks, from groundbreaking early video by pioneering figures of the 1960s to new digital projects by today's emerging artists. EAI works closely with artists, museums, schools and other venues worldwide to preserve and provide access to this significant archive. EAI also presents public programs such as artists' talks, exhibitions and panels; extensive digital resources; viewing access; technical facilities, and educational services. EAI's Online Catalogue is a comprehensive resource on the artists and works in the EAI collection, and features expansive materials on media art's histories and current practices: www.eai.org


___________________________________


Electronic Arts Intermix
535 West 22nd Street, 5th Floor
New York, NY 10011
t (212) 337-0680
f (212) 337-0679
info@eai.org
EAI on Facebook
EAI on Twitter